I love to celebrate Christmas and I enjoy all the decorations, particularly vintage, glittery, sparkly things.  I get into all the gifts and lights and Christmas music. I love the Christmas shows and shopping and all the family traditions….and the great food.   
However, the birth of a baby in a manger is what it is all about for me.  The Messiah!  The Savior of the world who brought peace, love, forgiveness, and hope to mankind that starry night in Bethlehem.  His birth, his life, his death and his resurrection were all foretold by the prophets of old…..all being fulfilled in this one Redeemer.  In Him, the law was fulfilled.  In Him, a bridge between Jehovah and His people was established.
Do you know him?  His offer of eternal life is a free gift and is the one gift at Christmas that has any real meaning at all.   The Giver of Life stands ready to give it to you freely, if you will just ask.
Let me invite you into my home for a moment to celebrate Christmas.  You are welcome.  We pretend Santa and all his reindeers over here with great excitement but, we worship only Emmanuel….the Christ.
Joining with Alphabet Thursday this week for the letter E…..Emmanuel.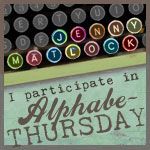 "I am sharing my holiday home decor and cleaning tips for the chance to win prizes from The SITS Girls and Great Cleaners."  So, my cleaning tip is this.  Hire help!