My husband REALLY wanted Chicken and Dumplings the other night.  I was looking for my dumpling recipe (not), when he offered to go to the store and buy some canned biscuits….Grands, to be exact.  I said….well…..of course I have never used canned biscuits before……me….an all scratch kind of gal (teehee).  But, if I were to use canned biscuits…..I would just go with the cheap ones.  I mean what else would those cheap canned biscuits be for, right?  But, he insisted on the "name brand" Grands Homestyle Canned Biscuits.  Ok…you have forced me into it.
Well, who knew?  Grands make the absolutely perfect dumpling.  They are so much better than the small cheap ones.  Well, of course, I don't know that from experience….since I am a from scratch kind of gal…haha.  But seriously, they are better than mine from scratch and the bought frozen kind and the Bisquick kind.  I have tried them all.
These are not on my diet.  Ok….so these aren't on anyone's diet…..but, if you have a mind to really go off the deep end….my husband would say…..this is your huckleberry in Chicken and Dumplings.  I am not kidding.  Thus, the 2 pound weight gain this week.  Whatevs!
BEST CHICKEN AND DUMPLINGS EVER
1 can Grands Homestyle canned biscuits (must be Grands and not an off brand)
1/2 rotisserie chicken
water—–about 2-3 quarts—depending on how far you need to stretch it
3 stalks of celery
1/3 chopped onion
3 tbsp butter
1/2 cup milk
1/4 cup FF Half and Half (or go for the real thing)
3 tbsp flour
Salt and Pepper to taste
Boil the half of chicken until the meat just falls off the bones.  Remove bones and pick off all the meat, chopping into bite size pieces and put back into broth.  If you want a clean broth, strain it but I don't think it is necessary.  In a skillet, sauté the onions and celery in 2 of the tbsp of butter.  In a jar, mix 1/2 cup milk and 3 tbsp flour.  Put on the lid and shake it up to blend.  Add both the sautéed veggies and the flour milk to the chicken broth.  Add the cream and last tbsp of butter.  Bring the soup to a boil with the lid off and boil for a few minute to blend the flavors before adding the dumplings. 
Take out the biscuits and cut them into fourths.  Now comes the key to chicken and dumplings.  Make sure the soup is boiling when you add the dumplings to it.  Bring it back to boiling after you dump them in and cook for about 10 minutes.  That is it.  Easy!
Welcome to Tuesday's Tasty Tidbits and guest blogging with Grocery Shopping For Free.  Every week, Dian over at Grocery Shop for Free, posts this same recipe on her site.  She works really hard to find and post all the freebies out there along with great coupon offers.  Make sure you hop on over and check it out.  She is the Queen of Freebies!!!!!
Meanwhile, over here at this blog party, here are a few rules.
1.  Please give us some love and follow on Google Friend Connect and Facebook (just a request)
2.  Please link back to us on your site and link directly to your entry post and not your home page.
3.  Please feel free to link up with anything creative….recipe, tablescapes, food info, cookbook reviews, crafts, sewing projects etc.
4.  Please hop around and check out some of the other recipes.  Try to read the two before your entry and the two after…..at least. (again, a request but not mandatory)
So now for some features……These had the most visits from last week.  Congrats, blogging buddies!
Pumpkin Cinnamon Roll Sheet Cake by Faith and Family
Thanksgiving Tablescape by 52 Mantels
Orange Breakfast Rolls with Cream Cheese Glaze by Around My Family Table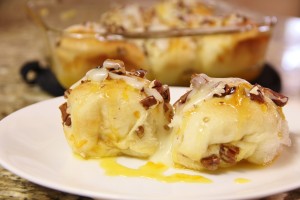 Link parties I may be attending this week: