The last couple of weeks I've had the best tasting cantelope and the best tasting watermelon that I have ever had.  Both were grown by a farmer in Comanche County.  This time of year, grocery stores often want to support the local farmers and also want to provide the freshest fruits and vegetables.  I will say this is one thing I love about summer. 
Our Wal-mart is no exception and every week it stocks whatever is in season from local growers.  A couple of weeks ago, I bought corn.  Didn't know it was time for that but I bought about 25 ears of corn, cut it off the cob and put it in the freezer.  They are so sweet.
This week, the grocery store closest to me had giant cantelope, a different variety.  I knew they would be delicious because as I passed them in the store, their aroma wafted by me and enticed me to turn around and purchase one. 
I love anything marinated, so I decided to see what melons might taste like marinated, since I had such a big one and I am the only one that eats them.  I let them sit for a couple of days after marinating and was pleasantly surprised at the sweet and tart flavors.  Since I wasn't sure of the outcome, I just marinated about 1.5 pints, so my recipe reflects that.
MARINATED MELON
Several slices of melon (chopped in bite sized pieces)
1/2 chopped onion (small)
1 oz water
Juice of 1 lime
2 oz apple cider vinegar
Zest of 1 lime
Pepper, liberally sprinkled
The amount of melon you need for the liquid will depend.  You want to have it all covered in the marinade.  Let this sit in the refrigerator over night or for a couple of days before eating.
I decided to join in on Alphabet Thursday, since I had a little extra time (while watching Berenstein Bears cartoon with the grand daughters).  Does this count as quality time?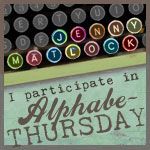 <
I also thought I would join in on some other blog parties:
Hearth and Soul
My Meatless Mondays
Mouthwatering Mondays
Menu Inspiration Monday
Homemaker Mondays
Midnight Maniac Meatless
Give It To Me Mondays
Monday Mania
Melt in Your Mouth Mondays
Made By You Mondays
Made With Love Mondays
Happy Homemaker Mondays
Gooseberry Patch Round Up Mondays
Tuesday Night Supper Club
Tasty Tuesdays @ 33 Shades of Green
Tempt My Tummy Tuesday
Tuesdays At the Table
Made From Scratch Tuesday
What's On Your Plate?
Delectable Tuesday
Dr. Laura's Tasty Tuesday
Totally Tasty Tuesday
Naptime Creations Tasty Tuesday Link Party
Show Me What You Got 
Tip Me Tuesday at Tip Junkie 
Tuesday To Do List
What's Cooking Wednesday @ Tales From the Fairy Blogmother
Recipes I Can't Wait To Try
What's Cooking Wednesday @ Not So Homemade
What's For Dinner?
Works For Me Wednesday
Real Food Wednesday
Whatever Goes Wednesday
What's On the Menu Wednesday
We Did It Wednesday
Penny Pinching Party
Friendly Wednesday
Passionately Artistic
Show Off Your Stuff
What I Whipped up Wednesday
Recipe Swap Thursday
Creative Juice Thursday
Thrilling Thursday
Tasty Traditions
Full Plate Thursday
Cooking Thursday
Toot Your Horn Tuesday
Turning the Table Thursday
It's A Keeper Thursday
What's Cooking Thursday
Making It with Allie Thursdays
Frugal Follies Thursday
Simple Lives Thursday
Bake with Bizzy
Delightfully Inspiring Thursday Link Party
Share Your Awesomeness Thursdays
It's a Blog Party
Turning the Tables Thursday
Friday Potluck
Family Friendly Fridays
Simply Sweet Home Friday's Favorites
Food Fight Fridays
Food on Fridays
Foodie Friday
Food Trip Friday
Fat Camp Friday
Fun with Food Friday
Grocery Cart Challenge Recipe Swap
Creation Corner, Friday's Link Party
Feature Yourself Friday
Sweets This Week Friday
Your Recipe, My Kitchen
Summer Lovin Saturdays
Party Mindie Style
Shindig Saturday
Whatcha Got Weekend (WGW)
Creative-ly U Link-up