Well, I have two new favorite dip recipes and I can't wait to share them.  The first is for Queso….and not your Velveeta kind.  The second is for Tomatillo Salsa.  Both are "oh my goodness" good!  Neither are, however, my original recipes, though I have put my spin on the salsa out of necessity.
The Queso was made by my daughter-in-law while I visited them in Georgia.  We had the most delicious fajitas along with this dip!  She found it on the Food Network and it was a courtesy of La Paz Restaurant in Birmingham, Alabama
CHILE CON QUESO
Ingredients
1 1/4 pounds white American cheese, diced or shredded
2/3 cups milk
1/2 cup diced onions
1/4 cup diced Anaheim chilies
1/4 cup chopped sliced jalapeños
14 cup diced canned tomatoes
1 tsp chopped fresh garlic
3/4 tsp ground cumin
1/8 tsp black pepper
Heat the cheese and milk in a double boiler until melted and smooth.  Add the remaining ingredients and continue to cook, stirring occasionally for 20 minutes.  Transfer the fondue to a lit and warm fondue pot or small chafing dish.  Serve immediately with chips.
I made this recipe on Mother's Day, I just bought the cheese in a chunk from the deli and I added Fat Free Half and Half for part of the milk.  I also didn't have the right peppers so I used Rotel in place of the diced tomatoes and Anaheims.  I did have jalapeños but I used garlic powder instead of cloves.
About the Tomatillo Salsa…..I copied it from a unique blog called Art+Food+Life but I changed it just a little.  Here is the link: http://www.artfoodlifeblog.com/2011/05/creamy-tomatillo-salsa/ .  I am going to give you my recipe but to see the original follow the link.
CREAMY TOMATILLO SALSA
5 medium tomatillos
3 chopped jalepenos
2 cloves garlic
1 tbsp olive oil
1/2 bunch cilantro
6 green onions
2 avacados
juic of 1 lime
1 cup sour cream
Saute the tomatillos, jalepenos, onions and garlic in the olive oil until the veggies are tender….about 6-8 minutes.  Let the vegetables cool.   Put all the ingredients in a blender except the sour cream.  Completely blend.  Add lime juice to taste and the sour cream.  Mix thoroughly.  Store in an airtight container for up to 3 days.  Serve with chips or over navy beans (which we did) or over a hamburger (which we also did).  Very tasty!  My hamburger recipe will come at another time.
I posted this to join with some great blog parties.  The first is one of my favorites.  D is for Dips on Alphabet Thursday!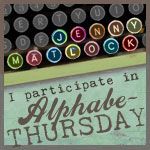 But I am also joining the following parties:
Recipes I Can't Wait To Try
What's Cooking Wednesday @ Not So Homemade
Show Off Your Stuff
Whatcha Makin' Wednesdays
Prairie Story Recipe Swap Thursday
Miz Helen's Full Plate Thursday
Cooking Thursday
Pennywise Platter Thursday
Tasty Traditions
Look What I Made
It's a Keeper Thursday
Thrilling Thursday Linky Party
Hooking Up With HOH