Welcome to Tuesday's Tasty Tidbits and guest blogging with Grocery Shop For Free and hope you will hop on over to Alphabet Thursday.  Thank you Dian for hosting my blog party each week.  I enjoy reading all the recipes and being challenged to create in the kitchen with new ideas from those of you who link up with us.  Please add your recipe post below and make sure you link back on your blog….to share the love.
Well, after reading the recipes last week, I decided to cook something I haven't cooked since my kids were little.  Shepherd's Pie!  The idea came from Cheryl at The BZ House That Love Built because the recipe she submitted under last week's Meatballs and Potatoes was a Soothing Shepherd's Pie.
Of course, I had to put my own spin on it so, my recipe is my own.  Also, I had 1/2 pound of cooked hamburger meat left from Saturday and needed to stretch it into a meal.   Yesterday, I cooked a pot of navy beans in my Crockpot (which were delicious, by the way) and it was still sitting on the cabinet…..the Crockpot…not the beans.  So, I decided to make the Shepherd's Pie in the Crockpot.  Great idea!  It was delicious and I hope you like it.
CROCKPOT SHEPHERD'S PIE
1/2 pound cooked ground beef
1 cup frozen English peas
1 cup frozen corn
1 can Golden Mushroom Soup
1 can Diced Tomatoes
1/3 onion, chopped
1 pkg. Instant Potatoes (prepared according to package)
2 tbsp Half and Half (Fat Free)
5 oz. grated Cheddar Cheese
Garlic Powder, Salt, Pepper, Jalepeno Powder, Goya Sazonador Total (The Perfect Seasoning)
In the Crockpot, put the ground beef in the bottom and mix it with the Golden Mushroom Soup.  Sprinkle it with all the seasonings.  Add the onions, peas, corn and top with the tomatoes.  Sprinkle it again with all the seasonings.  Cook on high for 2 hours.
Make the instant mashed potatoes and make sure the consistency is not too thick by adding the cream to it.  This is so it will spread over the meat and vegetables easily…..which is what you do next.  Top with the cheese and cook for 15 mimutes more.
I found this Goya Seasoning the other day at TJ Maxx for $2.29.  It is basically just a Mexican seasoning with garlic powder, onion powder, cumin, salt, oregano, parsley and MSG (not good).  It is such a good complete little seasoning and I also put them in my navy beans yesterday.  Yum!  I normally use Tony Chacheres but I think I have found a new all-around seasoning.  Don't you just love TJMaxx?  I received the Jalepeno Powder recently from a friend and have yet to use it until tonight.  It wasn't really hot and I would like to try it on something alone to really get a good taste of it.
I found the little packet of instant potatoes at Big Lots for $1.  It is one of the better instant potatoes that I have found and only requires water to make.
This entire one dish meal cost very little and would feed 3-4 people and since I already had some cooked ground beef, took very little time to prepare.
I decided to share this post with Alphabet Thursday Alphabet Soup: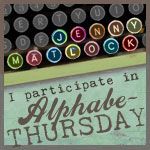 I may also link up with some other bloggers:
Mouthwatering Mondays
Midweek Mingle
Monday Mania
Melt in Your Mouth Mondays
Dr. Laura's Tasty Tuesdays
Tuesdays at the Table
Tuesday Night Supper Club
Slightly Indulgent Tuesdays
Tasty Tuesdays with Balancing Beauty and Bedlam
Frugal Food Thursday
Tasty Tuesday
Made From Scratch Tuesdays
Real Food Wednesdays
What's Cooking Wednesday
Let's Do Lunch
No Whine Wednesdays
What's on Your Plate
Workshop Wednesday
What's on the Menu Wednesday
Works For Me Wednesday
We Did it Wednesday
Prairie Story Recipe Swap Thursday
Miz Helen's Full Plate Thursday
Ultimate Recipe Swap Thursday
Pennywise Platter Thursday
Tasty Traditions
Look What I Made
It's a Keeper Thursday
Hookin' Up With House of Hepworth
Thrilling Thursday Linky Party
Tip Day Thursday
What's Cooking Thursday
Friday Potluck
Simply Sweet Home Friday's Favorites
Food Fight Fridays
Food on Fridays
Friday Feasts
Foodie Friday
Food Trip Friday
Fat Camp Friday
Frugal Fridays
Fun with Food Friday
Grocery Cart Challenge Recipe Swap
Family Friendly Fridays