Y is for Yesterday's food made into today's awesome dinner.  Yea!  I made up a new recipe tonight and was delighted with the outcome.  I had some rice and spinach leftover from last night and I also had part of a rotisserie chicken.  This was so good that I would make it again so, I am giving you the recipe as if I had not made it with yesterday's leftovers.
CHICKEN AND SPINACH STUFFED BELL PEPPERS
1 cup dry white rice
1 cup water
1 chicken bouillon cube
1 box Green Giant Frozen Spinach in Butter Sauce
1 1/2 red bell peppers
1 green bell pepper
1 can Campbell Golden Mushroom Soup
1 can Campbell Tomato Soup
1/3 cup chopped onion
1 large breast from a rotisserie chicken
4–6 slices of Borden Provolone Cheese
Garlic powder to taste
Tony Chacheres Creole Seasoning to taste
Cook the rice in the water and chicken bouillon.  Cook the spinach according to the directions on the box.
Mix the two together and add the onion and two soups.  (I borrowed my photos for the soup from the Campbell Soup website…..http://www.campbellsoup.com/condensed_soups_product_details.aspx?prd_product_id=2281&family=all)
Chop up the chicken breast and add this to the rice mixture.  Sprinkle with the garlic powder and Tony Chacheres until you like the flavor.
Split the bell peppers in half or thirds, cut out the seeds and lay in the bottom of a square baker, bowl side up.  I love to cook with Pampered Chef stoneware and I use their square baker almost nightly so, that is what I used.  Here is the photo from the website.
Put the rice, chicken and spinach mixture into the bell pepper bowls.  Cook at 350 for 45 minutes.  Take out and top with the cheese slices.  If you have cut the bell peppers into thirds, top each third with a slice of cheese (which is what I recommend).  If you only cut them in half, only use 1 slice per half.  Stick it back in the oven until the cheese is melted.  By the way, I only had 1 green bell pepper so I used the red as well.  That is the thing about changing things up to match your supplies.  I couldn't decided which one I liked better.
I have missed my Alphabet Thursday group the last few weeks and so this week, I was determined to join them.  Hope you will hop on over and visit some of them for yourself.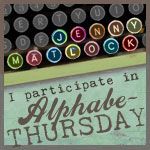 I may also be joining up with some other bloggers:
Prairie Story Recipe Swap Thursday
Miz Helen's Full Plate Thursday
Ultimate Recipe Swap Thursday
Cooking Thursday
Pennywise Platter Thursday
Thursday Recipe Spree
Tasty Traditions
Look What I Made
It's a Keeper Thursday
Mommy Cooks
Hookin' Up With House of Hepworth
Thrilling Thursday Linky Party
Tip Day Thursday
Friday Potluck
Simply Sweet Home Friday's Favorites
Food Fight Fridays
Food on Fridays
Friday Feasts
Foodie Friday
Food Trip Friday
Fat Camp Friday
Frugal Fridays
Fun with Food Friday
Grocery Cart Challenge Recipe Swap
Family Friendly Fridays
Tater Tots and Jello Weekend Wrap Up Party