Started a painting last week after finally finishing one that I had been working on since summer.  That was a mistake!  I mean working on one for so long.  I noodled it to death, which is art lingo for "overworked it without a positive result". Maybe some day I will like it, after it sits there for a year or so.
That happens sometimes.  I will go back to a painting that I never framed and stuck aside because I couldn't look at it anymore…..sure it was a disaster….and think, what was so wrong with that?  I am hoping this one will be that way but right now, I don't want to see it for a long time.
Meanwhile, I do have another one that I started in the fall with a great start.  I am gun shy now, however, and afraid of noodling IT to death, so I won't even paint on it.  In fact, I have been having painters block and just read about painting, instead of actually doing it.  That is getting me no where fast!!
So, last week, I got back on my horse and picked up a brush….put on music from my son's wedding playlist (which I might say, is quite good)……and began again.  It is like riding a bike.  Right side of the brain heaven….nirvana…..at least until I had to cook dinner.
When I get home from my little jaunt to the mountains, I am going to neglect my blog for a couple of weeks and really get with it.  Big talk from an obsessive blogger!  We'll see, right?
So, here is what's on my easel.  I just needed to paint some roses to get me back on track…..and I have barely begun.  Will post the results….hopefully within a couple weeks, instead of months.
I declare that is R is for Ready to Rally the Paint Brushes on Alphabet Thursday and I guess R is also for Roses.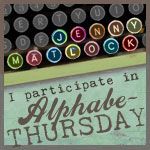 Also joining with another blog party.