Last weekend was full of baby showers for daughter #3 and blessings abounded.  Oh my goodness!  Thought I would share photos of the first shower.  I don't have the ones from the second one yet.
So, instead of a game, we did a craft.  We decorated onesies and then, hung them on the wall.  That was so much fun.  And did I say that we had homemade cupcakes and cupcake toppers.
So this is my "O" post for Alphabet Thursday.  Hope you will go and check out the other bloggers.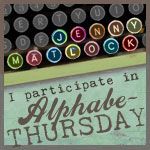 I am also hooking up with some other blog parties:
Hookin' Up with HoH
Tater Tots and Jello Weekend Wrap Up Party