I decided to do a craft today.  I know it may seem early to you but I am decorating for Christmas next week.  I used to decorate the week before Thanksgiving when the kids were in college so that they would have more time than just the week before Christmas to enjoy the decorations.  It just became a tradition
But this year, I will not be available to decorate that weekend so it has to be the weekend before.  Well, shockingly, that is next week.  Seriously?
So, to help me get in the mood, I decided to make some ornaments and since today at Alphabet Thursday the letter to write about is the letter "G", I decided to make one of my favorite birds with glitter. I have a couple of Cardinals that have taken residence in my backyard and I went to a high school with a Cardinal as it's mascot.  So, I chose a Cardinal….that and all I had was red glitter.
First I had to draw a Cardinal.
Then, I traced it to make the template and cut it out..
Then, I traced the template on cardboard and cut them out.  I put one on a paper plate so that I wouldn't get glue on the cabinet (duh) and I covered it in Elmer's Glue.
Then, I covered it in red glitter.
I forgot to poke a hole in it for the ribbon until I had glittered it so, with the rest, I did that before the glue step.  Also, I shook off the extra glitter and saw that I had some empty spots, so I re-glued those areas and poured the extra red glitter over the spots.  I'll glitter the back when it dries.  Also, I think I will do some green glittered Christmas trees and some silver glittered bells and maybe some blue glittered Christmas balls.  I love vintage looking Christmas decorations.  I'll try to get some templates uploaded that can be printed…..later.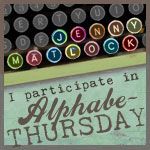 I am hooking up with Alphabet Thursday.  Also, with some other blog parties.