Are you a Fantasy Football fan?  Well, I am not much of a fan myself, but I am quite intrigued with the team names.
I guess it is like branding yourself with a blog name.  How long did that take for you?  I thought for months….agonized….started out with my own name…..drafted….re-drafted….and finally came up with Permanent Posies.  I have a perfectly logical reason why I settled on something so mysterious.  (For which you will have read my About Me page…teehee)
But the point is (when your read about  it you will agree), it is a reasonable, applicable name for me.  I am an artist and my blog button is of a painting that my Uncle painted.  I started out to do art things on my blog….but I digress…..no pun intended.
So, you can imagine how disturbing it was to find out that my husband has labeled himself in world of Fantasy Football as Murder Incorporated.  Really?  Murder?  So, you are incorporated?
My son-in-law……Step-n-Fetch….What does that mean?  Is that a male chauvinist remark?  My son is Awesome 6.  Who are the six?  Is that his family of origin?  I think not.  (Ok….well….his is really cool and it has to do with the army and I would have to kill you if I told you…..or maybe I would sic Murder Inc on you.)
Son-in-law #3 has a team named That's Enough Brett Favre.  Ok….that one makes sense to me.  I get it.  I agree with it, actually.  If you knew my son-in-law and could hear him say it, you would laugh.
I am uncertain about Victoria's Secret.  I am going to chalk that up to him being deployed for the first year of his marriage.  Otherwise, I would question his leanings.
So that leads me to Panty Raiders.  I would feel more comfortable with that one if his wife wasn't such a good friend…..and in my Sunday School class, no less.
Donkey Kong……he must be old.
Flomot Longhorns….unoriginal.  Game Changers….Ho Hum.  Goal Intentions….whatever.
Laces Out…..he might be funny….Ace Ventura Pet Detective reference.  Or….he is starting out making excuses for his losing season.  Hmmmmm
Oh….my husband just told me that Victoria's Secret is really named Victorious Secret.  Ok….that is a little more manly….though……is his victory some big secret or is he one of the mamby pamby….everyone is a winner crap….type person…and his losing is NO BIG secret…hahaha…..only his victory….hahah.  Ok…I am cracking myself up.
Is it me or are the women's leagues more creative?  Here are a few……Ms. Migraine, Hustle and Cuss, Karma Police, Sangria Sweetheart, Corn on the Kevin Cobb (creative}, Blitzing Beauty…..Grid Iron Garanimals…..oh yea…..that one rocks.  How about 'Hard Knocks and Knee High Socks"?
This one is cute…..Long Little Doggies….She is an owner of Dachshunds.  Awww…..
My husband has reminded me that Fantasy Football is not supposed to be "cute".
Ok….here are a couple of women I can relate to…..Insane Asylum and Insanity Clause.  I wouldn't mind playing Fantasy Football with those women.  However, if I did play Fantasy Football, you might want to just commit me.
I am just saying…..
This is my "F" post for Alphabet Thursday and I think I may score a failing grade.
Come join my fellow Alphabet Thursday blogging buds…..and post an "F" post.  Come on.  You know you want to…..You won't regret it.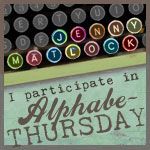 And…..I am joining another blog party….if they open it.  It is small and one of my favorites too.